CHEMIO TECNICA Snc
di Roncato Roberto e
Qualizza Eleonora

Via Venezia, 1
fraz. Crauglio
33050 San Vito al Torre
(Udine) Italia

Tel. +39.0432.997184
Fax +39.0432.998021
P.I.02361950302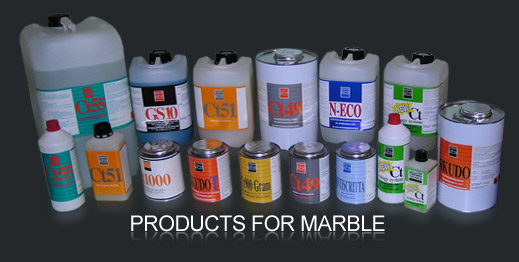 TREATMENTS
DETERGENTS

Solvent-based water repellent

Acid-based detergent

Sealer for terraces

Highly alkaline detergent

Solvent based stainproof oil-water repellent

Alkaline detergent

Stainproof oil-water repellent in enhancing solvent

Powder detergent

Stainproof oil-water repellent in light solvent

Liquid degreaser

Stainproof oil-water repellent in reinforced solvent

Neutral detergent

solvent based stainproof oil-water repellent

Rust dissolver

Solvent-based stainproof oil-water repellent

Granite oxides dissolver

alcoholic solvent based stainproof oil-water repellent

Graffiti cleaner

alcoholic solvent based stainproof oil-water repellent

Paint remover

Stainproof oil-water repellent in enhancing alcoholic solvent

Acid descaler

Water-based stainproof oil-water repellent

Water-based stainproof oil-water repellent. NON TOXIC

Water-based oil-water repellent for stoneware

Oil-water repellent for Venetian plaster

Chemical sander – antique look

Solvent- based anti graffiti coating

Surface binder

MAINTENANCE

Dust repellent for concrete floors

Water wax

Old-looking effect for Serena Stone

High endurance wax

Anti-slip treatment

Paste Wax
TREATMENTS
Siloxane waterproofing water-repellent sealer for the treatment of any porous surface. This product reduces water absorption by at least 80% and inhibits the formation of salt efflorescence, moulds and moss, while maintaining the breathability of the material.

ideal for the waterproofing of terraces, balconies, kitchens, tiled bathrooms. No need to remove tiles.

solvent-based stainproof oil-water repellent sealer for natural stone, terracotta, cement, artificial concrete-based compounds, porcelain stoneware, polished and glossy stone materials.

Stainproof oil-water repellent in enhancing solvent. This product enhances the natural hues and streaks of stone. CT 49 ENHANCER enhances the natural nuances of the treated materials, giving a matt satin effect reminescent of a polished surface consumed by time.

solvent-based stainproof oil-water repellent for non-porous building materials and stone materials with a glossy finish.

stainproof oil-water repellent in reinforced solvent. High penetration and long duration sealer suitable for low-absorption material (glossy finish) and outdoor floors.

Is a no filming oil and water repellent treatment for absorbent building materials and natural stones in smooth, bright or natural finishing, with high absorption coefficient too.

stainproof oil-water repellent sealer, specifically developed to protect porous building material (stone, marble, terracotta, granite, etc.) that need to prove oil and water repellent with excellent endurance and duration. Easy to apply, transpirant, non film-forming. Solvent-based product.

Is an antispot oil and water repellent treatment: it's an alcoholic solution product specific for the protection of absorbent materials and natural stone surfaces. After the application of Nass (our product that accentuates the tone of the surface), YPOX can be used as finishing to improve oil and water repellent properties.

is a no filming oil and water repellent treatment for absorbent building materials and natural stones in smooth, bright or natural finishing, with high absorption coefficient too.

is a product that improves the tone of the surface with a light oil and water repellent effect. The product improves the tone of the stone and it increases the contrast of the natural vains

water-based stoneproof oil-water repellent treatment, specific for the protection of porous building and stone material, both natural and as a conglomerate; reduces the ingress of liquid and oily substances into the capillaries of the treated material.

reinforced water-based stainproof oil-water repellent treatment. Suitable also for the application on very porous stone materials; good duration and endurance to heavy traffic.

devised for the oil-water repellent protection of glazed and unglazed porcelain stoneware, either indoors or outdoors. This product may be used during tile installation, before joint filling, to prevent grout haze from forming on the tiles owing to the penetration of coloured grout in the porosities. Water-based product.

oil-water repellent for Venetian plaster delivering a smooth look. Recommended as protective finish for any outdoor and indoor wall coated with: paint, lime, slaked lime, plaster finish, ceiling panels, plasterboard panels. Materials keep their original appearance and the products does not form a sticky film. Water-based.

highly concentrated acid mix for chemical sanding to give an antique effect to limestone and marble. This treatment results in matt surfaces with no shine and an "orange-peel" finish.

antigraffiti protection to prevent defacing of any absorbant surface.

binder for absorbant stone with a high silicon content. Particularly suitable for the restoration of sandstone, tuff, trachyte, bricks, terracotta and damaged coatings. Materials keep their original appearance and permeability to water vapour. Stable to UV rays and resistant to corrosive weathering agents.

dustproof sealer; forms a highly resistant film that protects the surface from heavy traffic and harsh conditions; it repels dust while preserving the natural breathing of the substrate. This is not an oil-water repellent.

a water solution specifics for the creation of the ancient effect on the Serena Stone; the treatment gives to the surface the typical colour of the old stone.

the treatment creates microporosities on the surfaces giving an anti-slip effect. It is suitable for the treatment of granite and bright gres surfaces.

DETERGENTS
acid detergent suitable for the removal of grout smears, salt efflorescence, cement, lime and floor plaster; removes rust stains, moulds and mineral concretions. Particularly suitable to remove white efflorescence from stoneware.

highly alkaline viscous detergent to remove organic dirt, grease, moulds and air pollution from external and interior masonry. Thanks to its viscosity, it adheres perfectly to vertical walls for optimum cleaning.

two-component alkaline detergent especially designed for low pressure hosing. Used for localised cleaning to remove oil and wax-based products, greasy smear, algae and moulds, bird excrements, air pollution residues on hard substrates.

powder detergent with a high degreasing power, consisting in a mix of inorganic salts and non-foaming surfactants.

degreasing liquid detergent, with decarbonising agents. Engineered to remove glue, light graffiti, resin films from floors or objects in natural and artificial stone. Excellent to remove moulds, algae and moss from masonry substrates, uncoated concrete, smooth plaster, brickwork and stone.

neutral detergent suitable for routine cleaning of marble, granite, ceramic, terracotta, earthenware surfaces and waxed floors. Recommended for maintenance of substrates treated with our protective impregnants as it causes no damage to the stone conglomerate or the oil-water repellent treatment.

product designed to remove rust stains from marble, stone, granite and other stone materials. Test before using on surfaces with a shine finish.

rust cleaner eliminates spots or oxides stratums from granites and from not-bright stone materials.

viscous detergent to clean and remove resistant paints such as epoxy and polyurethane resins, graffiti made with markers or sprayed paint, polymeric films, printer ink and the like from terracotta, marble, granite, glass, brickwork, plaster coats and concrete surfaces. For professional use only.

paint stripper specially engineered for removing resins, acrylic and vinyl sealers, wax, silicon oil, polymers, paints and silicons from acid-resistant stone surfaces. For professional use only.

acid descaler with medium-high acidity to remove filler and concrete residues, or lime and salt deposits from any acid-resistant surface. For professional use only.

MAINTENANCE
water-based wax used for routine maintenance to renovate and restore indoor marble, terracotta and granite floors.

wax specially designed for all indoor treated surfaces in natural stone, unglazed terracotta, Spanish terracotta, quarry tiles, bricks. This product forms a very resistant film and gives a warm shiny look. The protective film inhibits dirt deposition and makes cleaning easier.

paste solutrope composed by hard natural solvent waxes. GLASSJ protects, masks light defects and it revives and intensifies the brightness of the treated surfaces. The protective film reduces the formation of the dirt and makes easy the next cleaning.