CHEMIO TECNICA Snc
di Roncato Roberto e
Qualizza Eleonora

Via Venezia, 1
fraz. Crauglio
33050 San Vito al Torre
(Udine) Italia

Tel. +39.0432.997184
Fax +39.0432.998021
P.I.02361950302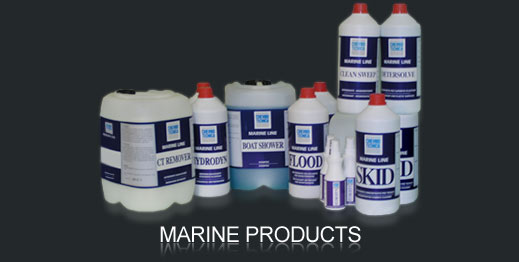 DETERGENTS
BILGE CLEANER
liquid degreasing detergent for bilges rich in active agents for swift removal of organic and inorganic grease. Does not corrode the surface and the paint; leaves no mark or haze.

FLOOD
all-in-one liquid detergent for maintenance, degreasing, decarbonising, dissolution of grease stains and glue.

BOAT SHOWER
concentrated neutral shampoo for the external cleaning of boats and any type of craft; suitable for any on-board requirement. Ideal for cleaning at dock or mooring.

DETERSOLVE
concentrated liquid detergent developed to clean plastic surfaces, rubberised fabrics, varnished surfaces, sky and artificial leather. Non corrosive on metals.

SKID
concentrated liquid detergent for fabrics, suitable for cleaning carpets and natural or artificial fabrics. Easy to use for both mechanical and manual cleaning.

DESCALERS – RUST REMOVERS
DISINET
engineered for removing rust and scale marks; suitable for bathtubs, showers, toilets and water taps. A non-foaming product suitable also for stainless steel; leaves no marks.

CLEAN SWEEP
acid compound used to descale and remove oxides from any metal. Designed to remove oxide from bulwark stanchions, consoles and outdrives. Prime cleaner for cooling circuits with heat exchangers (also for outboard engines) clogged with scales. Prepares treated surfaces for the subsequent application of paints, lacquers or other protective coatings. Does not damage or corrode: iron, aluminium, bronze, copper, nickel, stainless steel, pig iron, plastic.

DINGHY LINE
CT REMOVER
degreasing detergent to be used on PVC and rubberised fabrics exposed to aggressive sludge and stubborn dirt. Recommended for cleaning of fenders and dinghies.

PROTECTIVE TREATMENTS
HYDRODYN
Oil-water repellent specially designed for the protection of natural and artificial fabrics, natural leather, sails, tents, umbrellas, etc.; reduces the ingress of water and oily liquids into porous materials and enables their easy cleaning with a neutral detergent (we recommend using our GS 10 neutral detergent).
Stable under UV-rays, does not alter fabric properties and does not cause unsightly discolouration.

HYDROSTRIP
solvent-free quick-setting glue based on a synthetic rubber resin. Suitable for gluing wallpaper, coatings, pre-fasteners and substrates also on diverse materials such as aluminium, rubber, wood, plastic and painted surfaces.