CHEMIO TECNICA Snc
di Roncato Roberto e
Qualizza Eleonora

Via Venezia, 1
fraz. Crauglio
33050 San Vito al Torre
(Udine) Italia

Tel. +39.0432.997184
Fax +39.0432.998021
P.I.02361950302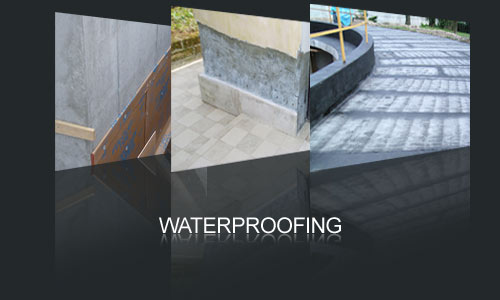 Water has always been a critical problem for masonry work and an often neglected one. Chemio Tecnica supports its customers in the search for the most suitable solutions, proposing the use of the most innovative materials and the safest technologies to deal with water infiltrations.
Chemio Tecnica adresses these issues relying on our extensive knowledge of the materials used, aware of both their potentials and drawbacks, and selects for each treatment the best products available on the market.
And we do not neglect the application stage either, since we know that from the application you can tell the real difference between a good and a poor treatment.
Waterproofing of swimming pools
Waterproofing of lift pits
Waterproofing before and after casting of underground structures
Remediation of localised infiltration in basements
Waterproofing of tiled terraces
Waterproofing of flat roofs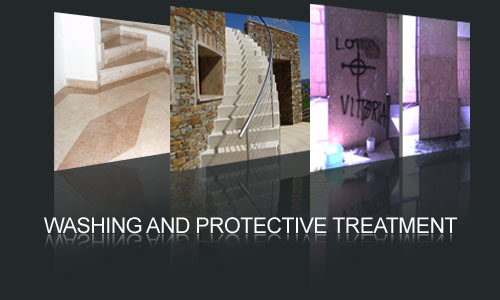 In over 30 years of work with premium materials, we have found solutions for the cleaning of delicate surfaces and developed innovative products to protect natural stone, terracotta and marble. Chemio Tecnica has focussed on two business lines: the development of cleaning and protective products and their application by our own qualified personnel. The synergy between these two aspects is the strength of Chemio Tecnica; we engineer new products on the basis of the constant feedback we obtain from on-site applicators, with a view to providing the market and our customers with highly performing products.

First thorough cleaning of terracotta, stone, marble and granite pavings
Wax and paint removal
Cleaning after building work
Cleaning of facades from smog and graffiti
Oil-water repellent treatment for floors and coatings in terracotta, marble, granite and stone
Antigraffiti treatment
Application of resins on industrial floors
Dust repellent treatment for concrete floors
Antislip treatment
Dressing and polishing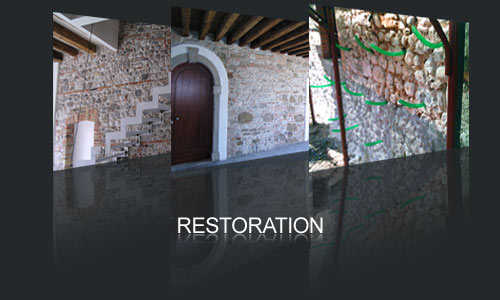 Chemio Tecnica has acquired a theoretical and practical knowledge of all types of materials, from the most traditional to the most innovative ones, in order to be able to deal with any type of masonry work, from concrete ones to ancient stone or pebble walls. We can solve problems of rising damp, consolidate masonry or plaster coatings through injection of the most effective compounds, remediate fissures in traditional brickwork or concrete walls. Chemio Tecnica also masters sanding techniques for wooden beams, building elements in stone, masonry to be restored to its unplastered state by resorting to the most appropriate abrasives. Chemio Tecnica also makes projects for the filling of masonry joints using the pre-existing colours and textures or as required by the customer. Our work also includes the application of the best breathable plasters against condensation, the waterproofing of underground structures or masonry exposed to the rain, as well as other specialised building techniques to support building construction companies with complete solutions for these issues. Even more complete support and advice is provided to private customers, to whom we also deliver finishing services such as painting, plumbing and tiling; Chemio Tecnica selects the most suitable and qualified collaborators for you in order to deliver a one-stop-shop service that makes even the most demanding customers happy.
Remediation of rising damp
Remediation of concrete
Consolidation and binding of masonry and plastering
Remediation of fissures in masonry
Sanding, hydrosanding and microsanding
Filling joints in exposed masonry
Waterproofing of walls exposed to rain